Updated: 5 hours 46 min ago
The 2015 JUC World Tour dates are rapidly approaching. Since the community has grown so tremendously since last year, the JUC in each city will be the largest gathering of Jenkins users in that region.
Kohsuke will, as always, be the opening keynote speaker at each JUC. But, with the conference going from one to two days, I am happy to announce that Gene Kim will be another keynote on the second day! He is the author of The Phoenix Project and a thought leader in DevOps.
To have these two experts in one place will provide a great opportunity to talk about Jenkins as the foundation of continuous delivery and DevOps practices.
Another exciting announcement: the 2015 Jenkins World Tour will run alongside the CD Summit conferences for both days (at the U.S. East, Europe and U.S. West locations only). Attendees of either conference can attend any of the talks and presentations at both events. Learn more about what CD Summit 2014 was like to get an idea for this year's event.
Registration for all 2015 JUC locations is open. Early bird pricing ends May 1!
The Call for Papers for JUC is still open for Israel and U.S. West. Submit your own proposal or convince your favorite speaker/Jenkins user to submit one if speaking is not your thing!
For the past few weeks, I've burnt a lot of midnight oil to get Confluence containerized. The goal is to make Confluence upgrade more manageable and testable. In the proces, I've not only containerized Confluence, but also containerized some other services, including mock LDAP server, to be able to test the copy of the production Confluence dataset against newer versions of Confluence before upgrading production.
The infra team is currently targeting this weekend to migrate our current Confluence instance to this new container, and use the opportunity to move the service to a bigger system. Currently JIRA and Confluence has to live within 2.5GB RAM from the same host, and it's really stretching both services. The new box has 4GB of RAM, and we are splitting JIRA and Confluence to two different servers. So there's a lot of head room.
So please expect some Wiki outage over the next weekend.
As always, our sincere thank you to Oregon State University Open Source Lab for generously hosting our servers. Please donate to them to show your support. Similarly, thank you Atlassian for generously providing the license for running Confluence.
If this goes well, JIRA will follow suit.
About two years ago, we bumped our runtime JRE requirement from Java5 to Java6. And so the time has come once again for us to finally move on to Java7. Because of all the new language features, many of us the developers really wanted to move right on to Java8, but after much discussion we settled to move to Java7 first and then to Java8.
So here is the plan:
Starting Jenkins 1.608, we start advertising that we will be moving on to Java7, which is why you are reading this.
Starting Jenkins 1.610 (2 weeks from now), we will ship so-called 51.0 class files that will only load on Java7+. This gives some more warnings to those who don't read our blog.
Unless we hear uproar from users, starting around 1.614 (6 weeks from now), core developers will start linking directly to new Java7 APIs. We will move on to servlet 3.0 at this time as well.
The current 1.596 line of LTS will remain compatible with Java6, and most likely the next LTS line will also remain compatible with Java6. So LTS users have additional 3 months before upgrading to Java7.
Java7 has more NIO improvements that allow us to do some file I/O in more portable manner. Similarly, servlet 3.0 will help us build more interactive UI.
Your Jenkins master and all the build slaves need to be running on Java7+. Similarly, those who are using the Maven2 job type must also run Maven with Java7+. However, this does not prevent you from using Jenkins to build your applications that are targeted to earlier versions of Java. According to our research, most platforms people run Jenkins on has been already shipping Java7 for quite some time now. But if you have a good reason why we shouldn't force everyone to Java7, please let us know ASAP.
To put this into context, Oracle will not release updates to Java7 past April 2015. We have always recommended users to run the latest general release according to Oracle, which is currently Java8. As I said, I suspect we will be requiring Java8 pretty soon. So if you are still running Java6, you should definitely upgrade to Java8.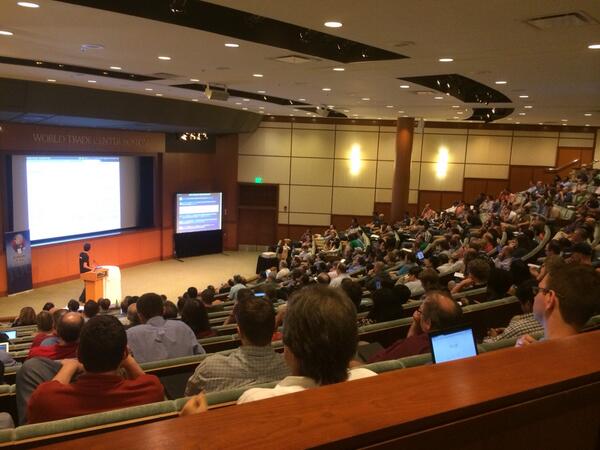 It's that time of the year again: 2015 Jenkins User Conference Registration is OPEN for all cities. This year, we are making some changes to JUC — JUC will be a two-day event in three out of the four cities across the globe. You will get opportunities to network with other users and developers in the community, learn more about how other people are using Jenkins and attacking broader continuous delivery problem. As always, we love to meet & talk to you to learn what you are doing with Jenkins. To get the sense of how JUC is like, take a look at our past JUC reports like this and this.
Early Bird pricing for JUC tickets is available until May 1.
You can learn a lot more information here about the 2015 Jenkins User Conference World Tour. As always, we are tweaking JUC to make it better, based on feedback. I'll post about those in coming months. Make sure to follow or tweet at @jenkinsconf to stay up to date on JUC news or to share which JUC you will be attending!
See you there!
The deadlines to speak at a 2015 Jenkins User Conference are fast approaching. Don't miss out on this great opportunity to share your Jenkins tips, tricks, stories, and know-how with the community! Submit your proposal by the below deadlines to have your talk considered by a panel of Jenkins experts:
Please note: The deadline to submit a speaking proposal for East Coast US (DC) and Europe (London) is SUNDAY, MARCH 22, 2015. That is only FIVE days away!
2015 JUC Cities & Call for Papers Deadlines
East Coast US: Deadline to Submit - March 22, 2015
London: Deadline to Submit - March 22, 2015
West Coast US (Bay Area): Deadline to Submit - May 3, 2015
Israel: Deadline to Submit - May 15, 2015
Not interested in speaking? Contribute to the community in another way: nominate or refer a speaker you would like to hear from at JUC! Contact alytong13@gmail.com or simply become a sponsor.
This is a guest post from Owen Mehegan (aka autojack)
In 2014 Google announced that they will be shutting down their OpenID 2.0 authentication endpoint and replacing it with Google+ Sign-in, a library built on top of OpenID Connect. The old Google endpoint will shut down on April 20th, 2015! Accordingly, if you are using the Jenkins OpenID plugin to authenticate users with the 'Google Apps SSO' feature (typically when Google hosts your personal or corporate email), you need to upgrade. Ryan Campbell took the initiative to develop the new Google Login plugin which implements the Google+ Sign-in functionality. This is the recommended solution going forward. Follow the steps here to configure it for your site. Note that you DON'T need to have a Google+ social network account/profile. Any Google account can be used.
If you find yourself locked out of your Jenkins system after the old endpoint is shut down you will need to follow the steps here to disable Jenkins security temporarily. Then you can connect without authentication and switch to the Google Login plugin. You will probably want to uninstall the old OpenID plugin at that point as well.
References:
We have some exciting news to share with you! We have finalized most of the dates and locations for the 2015 Jenkins User Conference (JUC) World Tour.
Save the date(s):
US East (Washington DC): June 18-19
Europe (London): June 23-24
Israel: July 16 (ETA)
US West (Santa Clara): September 2-3
The big news? The JUC agenda has been expanded this year to cover two days! That means you get twice as many opportunities to learn how others are using Jenkins and to network with other Jenkins users.
CALL FOR PAPERS IS OPEN FOR ALL JUC CONFERENCES
We need JUC speakers! The Call for Papers is open now and you can apply here. This is an opportunity for YOU to give back to the community by sharing your Jenkins knowledge and success. Jenkins speakers contribute significantly to the overall JUC experience.
In return for speaking, you will receive free admission to the conference and fame/fortune within the Jenkins community. OK, we can't guarantee the latter, but we can guarantee the former! Hurry and apply now, because the Call for Papers deadline for US East and Europe expires on March 22, 2015.
Not interested in speaking? Another way to contribute to the community is by letting us know who you want to hear from. Nominate or refer that amazing speaker and we'll do the rest. Contact alytong13@gmail.com
Lastly, be a JUC sponsor. Any organization can do this – whether a vendor that sells into the Jenkins ecosystem or a company that has received value from Jenkins and wants to give back to the community. You can find out more here. (NOTE: JUC is not a moneymaking venture for the community – so sponsorships do make a difference.)
As a part of the Jenkins 100K celebration, Dean Yu, Andrew Bayer, R. Tyler Croy, Chris Orr, and myself got together late Tuesday evening to go over the history of the project, how big the community was back then, how we grow, where we are now, and maybe a bit about future.
We got carried away and the recording became longer than we all planned. But it has some nice sound bites, back stage stories, and stuff even some of us didn't know about! I hope you'll enjoy it. The MP3 file is here, or you can use your favorite podcast app and subscribe to http://jenkins-ci.org/podcast.
In preparation for Jenkins 100K celebration, I'm going to record a one-time podcast with Dean Yu, Andrew Bayer, and R. Tyler Croy.
My current plan is to go over the history of the project, how big the community was back then, how we grow, where we are now, and maybe a bit about future.
But if you have any other suggestions/questions that you'd like us to discuss, you have 3 or 4 more hours to send in that suggestion! Your feedback would help us make a better recording, so please don't hesitate to tell us.
continuous blog - the official hudson weblog